This write-up describes the 3 best solutions to convert MBOX files to PST files. If you have the exact query, then this post will surely help you to get your favorite solution.
Here, we will also explore the reasons to prefer MS Outlook over MBOX-supported applications. So, let's begin without any more delays.
Why pick MS Outlook?
Microsoft Outlook is known as a personal information manager. Many professionals and business users use it to send and receive emails. It is well-known for its advanced features, high data security, smart data management, etc. To take the advantage of these features, users prefer to switch from other email clients to Outlook.
Why arise the need to Convert MBOX data files to PST?
MBOX format is highly popular among users but when we talk of Outlook, it is one of the top-rated email clients. So, when users switch to MS Outlook from any MBOX-supported email client, there is a need to convert MBOX data files into Outlook PST file format.
How to Convert emails from MBOX format to Outlook PST format?
To perform the conversion of MBOX data items into PST file format, you have a manual as well as third-party solutions to execute the conversion. Here, we will learn both methods one by one.
Method 1. Configure Thunderbird with MS Outlook
To utilize this method, you must have a Gmail account. Also, make sure to properly install Thunderbird on your system. This method consists of 5 different steps.
Step 1. Enabling IMAP protocol in Gmail account
Open your Gmail account. Go to settings and choose the Settings option.
Hit the Forwarding & POP/IMAP tab and enable the IMAP option.
Hit the option Save Changes.
Step 2. Allow Less secure apps in Gmail
Go to https://myaccount.google.com
Hit the Security tab and select Less secure apps access
Enable the option of Less secure apps
Step 3. Configure Gmail account with Mozilla Thunderbird
Start the Thunderbird application. Hit the Tools option and choose Thunderbird options.
Hit the Account Settings option, choose Account actions, and then hit the Add accounts option.
Provide your name, email address, and password, select the checkbox Remember password and press the Continue button.
Pick the IMAP option and hit the Done button.
Step 4. Import MBOX data files to the Gmail account
From the left pane, right-click on your Gmail account and choose the option for a new folder.
Assign a name to the folder and hit the Create folder option.
Choose your Thunderbird account, press CTRL + A to pick all email items, and choose option of Copy To
Pick your Gmail address and pick the folder you have just created.
Go to your Gmail account and click on the folder to verify it.
Step 5. Configure your Gmail account in Outlook
Start the MS Outlook application and navigate to the File option.
Hit the Account settings and pick the Account Settings option.
Click on the new one under the E-mail tab.
Provide the name, email address, and password of your Gmail account. Then, press the Next button.
Once the process is over, press the Finish button.
Method 2. Import MBOX data files in MS Outlook using Apple Mail
For this method, you must have email clients such as Apple Mail, Outlook Express, Eudora, and Outlook installed on your system.
Step 1. Import mailbox items to Apple Mail
Start the Apple Mail program. Go to the File tab and click on the Import mailboxes option.
Select the MBOX files and press the Continue button.
Set the path and choose MBOX files. Then, press the Continue button.
Step 2. Move Apple Mail mailbox items to Eudora
Add .mbx file extension to Mozilla Thunderbird
Move the file to the Eudora directory (C:Documents and SettingsApplication DataQualcommEudora.
Start the Eudora program and double-click on MBOX files.
Exit the Eudora application.
Step 3. Transfer Eudora to Outlook Express
Launch the Outlook Express application and tap on the File option.
Choose Import and then go to the Messages option.
Pick Eudora from the applications list and hit the Next button.
Browse the location of Eudora to choose the .mbx file and press the OK button.
Hit the Next button, again Next, and then the Finish button.
Step 4. Import Outlook Express mailbox to Outlook
Start with Microsoft Outlook. Go to the File option, hit the Open button, and then on the Import button.
Choose the option of Internet Mail and addresses and hit the Next button.
Pick Outlook Express and hit the checkbox for Import Mail
Hit the Next button and thereafter press the Finish button.
Using these manual methods, you can successfully convert MBOX email messages to Outlook PST files. But to execute the manual solutions, users must have technical intelligence, and also this takes a lot of time. Apart from this, users need multiple email clients to use manual solutions. So, if you find manual ways tough & inappropriate for you, you can pick a direct option i.e. third-party solution.
Method 3. Using third-party software
Here, we are explaining the conversion process using a third-party solution named GainTools MBOX to PST Converter Software. This is a rapid and well-examined program to convert all MBOX data items to PST file format. The software supports more than 20+ email clients like Thunderbird, Eudora, Apple Mail, etc. You can smoothly convert infinite MBOX email files with attachments to PST file format.
To know the complete process, follow the below-mentioned steps:
Properly start the software after installing it on your Windows system.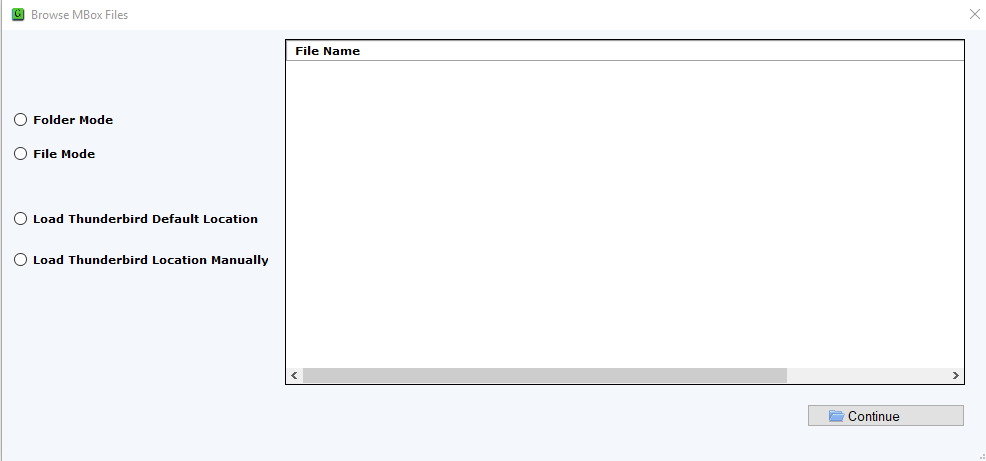 Pick any option from the available ones to add MBOX files. Then, take the help of the Browse button to load MBOX files. Press the Continue button.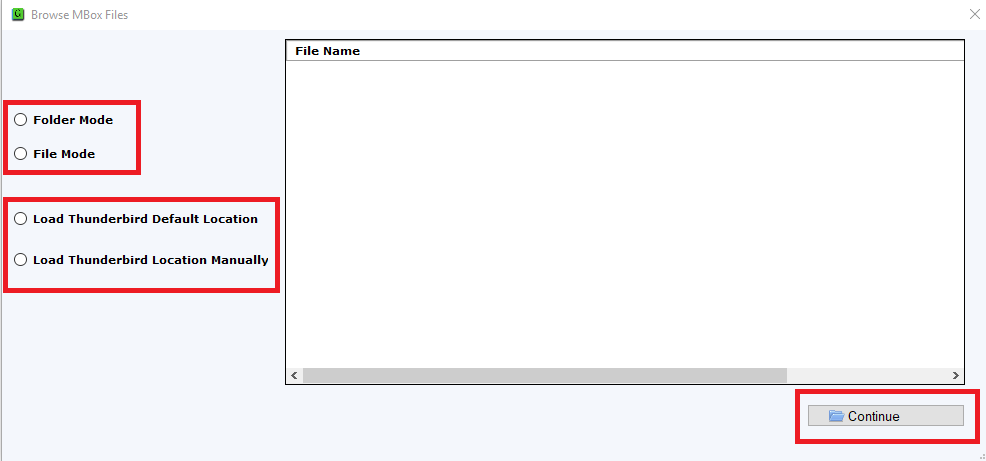 Get all MBOX databases on the preview Press the Export button.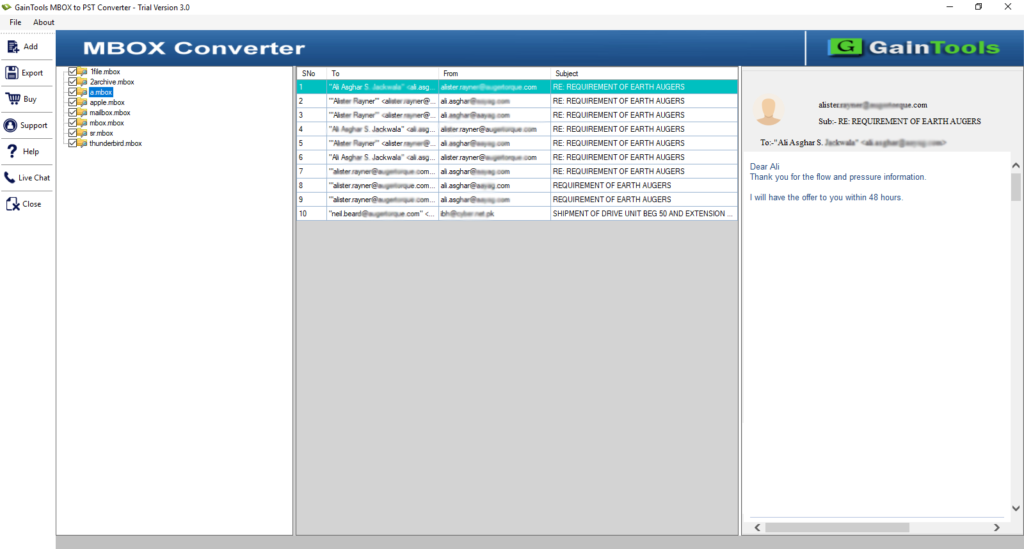 From the Export screen, pick the option 'Convert to PST'. Also, go with either the new PST or the existing PST option.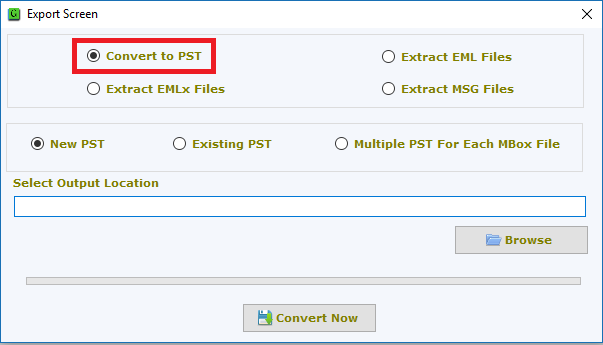 Select a directory to save the output PST file.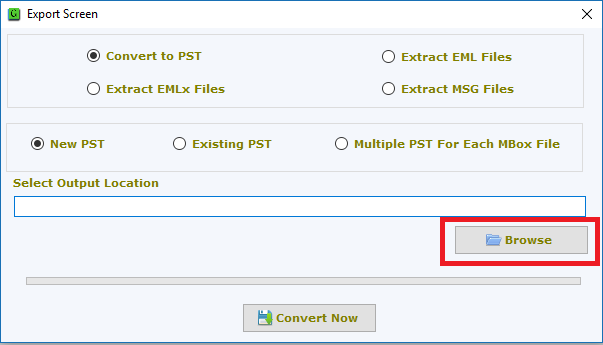 To begin the conversion task, hit the Convert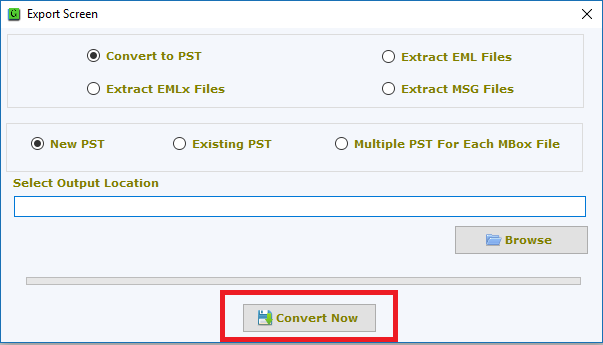 Other Helpful features of this utility:
Convert MBOX data items with associated attachments to PST file
No supported email client is required to convert MBOX email messages to PST
Get a full preview of added MBOX data files
Freeware option to convert the first 10 items from each folder of MBOX file to Outlook PST
Take care of email formatting and database structure throughout & after the conversion
Frequently Asked Questions
Q – How can I open MBOX files in MS Outlook?
A – MS Outlook can't open MBOX directly. To open MBOX emails in MS Outlook, you need to convert the mailbox (.mbox) to PST file format. After that, the output PST file is ready to open in Outlook.
Q – How can I save Thunderbird emails into a PST file?
A – To convert Thunderbird to PST, you need to convert Thunderbird MBOX emails in PST file format using a manual or third-party solution. If you want the simplest and best solution, we suggest you use the third-party solution discussed in this post.
Q – Can I export MBOX files to PST Online?
A – Yes, there are many websites available that provide solutions to online convert MBOX emails into PST files. However, online solutions depend on many factors like file size, internet connection, etc. If you have an unstable internet connection, then this method would be frustrating & time-taking. Many users avoid online solutions due to data security. So, if you are worried about your data, then you should opt for MBOX to Outlook Converter third-party solution.
Conclusion
Moving MBOX mailbox data to PST file is not much tough. With this post, you can make this conversion task simpler. Here, we have talked about the best solutions including manual and professional methods. Manually, the conversion can be messy and time-consuming so we highly suggest users choose an automated solution.