In a regular lead-in to the Australian Open, Alex de Minaur would be a headline act in Melbourne's metropolitan newspapers and a lead item on all TV news bulletins. He defeated reigning Australian Open champion Rafael Nadal in the United Cup and US Open winner Dominic Thiem at Kooyong prior to Thursday's outing against Andy Murray.
All this after leading Australia to the Davis Cup final in Spain last November. Aged 23, the 2020 US Open quarter-finalist is in strong form and entering the golden years of his career. He will receive strong support as he tries to end the drought of homegrown winners that dates back to Mark Edmondson's triumph in 1976.
As former Australian Open tournament director Paul McNamee noted, the world No 24 has been able to go about his preparation for the year's first major with a minimum of fuss. The reason? The hype surrounding Australia's new Netflix sensation Nick Kyrgios, who is yet to play a point this year but will feature in a sell-out practice session against Novak Djokovic on Friday night on Rod Laver Arena.
"Alex is under the radar because Nick is Nick," McNamee said. "The rankings don't lie. With Nick and Alex, it is great to have two guys who are going to be doing some stuff. "I mean Alex, you can't fault his preparation. And the other guy has had no preparation, but that is par for the course and it doesn't mean Nick won't play great at Melbourne Park."
With Ajla Tomljanovic, a quarter-finalist at Wimbledon and the US Open last year, under an injury cloud, De Minaur and Kyrgios are the leading local hopes in the post-Ash Barty era.
It is a year since Kyrgios and Thanasi Kokkinakis claimed the Australian Open doubles title, either thrilling or appalling fans depending on their appreciation of tennis traditions. No matter the opinion, there is no dispute the Special Ks were a headline act and with Kyrgios now a Wimbledon finalist and Kokkinakis back in form, both will carry strong support.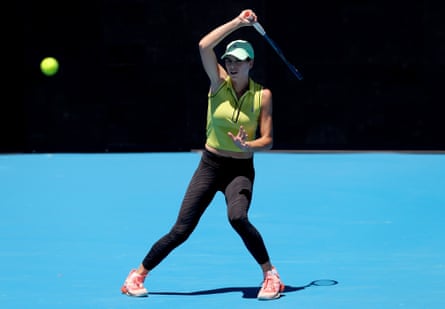 Kyrgios said after a training session at Melbourne Park on Thursday that his knee and ankle are feeling in reasonable shape and that "everyone has niggles" at this time of the year.
"I am one of the best players in the world so I am definitely going to go into the Australian Open and any grand slam with confidence," he said. "It is a bit different this time around for me being one of the favourites because usually I am kind of like a dark horse. It is new for me. This is the first time I have gone into a grand slam feeling like I am one of the guys who can take the trophy, really knock on the door."
The Australian charge at Melbourne Park over the next fortnight will feature 11 men and six women, with players including Jason Kubler and Alexei Popyrin also in good form. Olivia Gadecki, who is being mentored by Barty, will make her Australian Open debut along with Rinky Hijikata and Talia Gibson.
But it is Australia's two top-ranked men who appear the most likely to mount a charge deep into the second week of their home grand slam. Their draws are appealing. De Minaur, the 22nd seed, opens against a qualifier, while the 19th-seeded Kyrgios plays world No 98 Roman Safiullin.
De Minaur posted career-best results at the Australian Open and Wimbledon last year when reaching the last 16 in both tournaments. He also claimed his sixth ATP Tour title in Atlanta. But in a chat with 1987 Wimbledon champion Pat Cash at Kooyong on Tuesday, De Minaur declared he was far from satisfied with his current record in grand slams.
"It is no secret. I am not satisfied with reaching third rounds, fourth rounds at slams. I want more. That is the person I am," he said. "[I want] to be at the end of weeks, the end of the important tournaments playing the best players in the world, because I think that is where I belong and that is where I want to be."
McNamee, a former doubles world No 1, has watched the Sydneysider closely this summer.
"Alex is moving great. He is in the top three movers out there. But he is a pretty big guy now as well and he is hitting his groundies really, really well," McNamee said. "He finished last year well and he has started this season well as well. If he can get to the second week, he will be a factor, but it just depends on how the draw opens up.
"He is nearly there. With Lleyton Hewitt's guidance, I can see there are a lot of similarities in their games."