Wolves are built to thrive in bitter winter, so with the champions still struggling to de-ice the windscreen and get the motor running, who better to assume the role of Bayern for now? In a glacial Olympiastadion in Berlin on Tuesday, Wolfsburg flamed their hosts, Hertha, 5-0 to make it two wins, 11 goals scored and none conceded. They remain seventh but only three points off third place and now with a better goal difference, and defensive record, than any team beyond Bayern.
They are imperious. It was Die Wölfe's sixth league win in a row, and they've kept clean sheets in five. Niko Kovac's team have not lost since a defeat at Union in mid-September and it didn't look for a minute as if the Köpenickers' capsizing neighbours Hertha had the chops to change that.
"The first half was the worst thing I've seen this season," a disgusted Hertha sporting director, Fredi Bobic, told Sky. "The players know that too." With a sub-30,000 crowd rattling around the colossal bowl and the Kurve hardcore giving their team the cold shoulder by the end, Kovac showed a genuine sadness for his hometown club, for whom he played 148 Bundesliga 2 games in the 1990s, and who were keen to bring him back as coach in the summer before the eventual appointment of Sandro Schwarz. "I really hope they get out of [the relegation zone]," he told his post-match press conference. "My heart is attached to Hertha."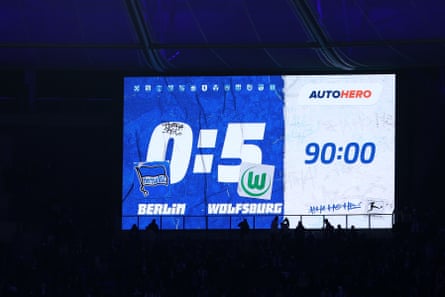 The shambles that Wolfsburg simply stepped over might have underlined how Kovac made the right choice, but it also highlighted how much he might have helped, having dealt with his own share of issues an hour up the road in Lower Saxony. Little has come easy to Kovac in his coaching career but, even still, it had been an inauspicious start to his latest job. Wolfsburg won only one of his first seven Bundesliga games, losing four. There were calls for his head.
On top of that, he had to deal with Max Kruse, signed back from Union at no small expense to steer the team away from the drop this time last year but perceived by Kovac – who prides himself on extremely fit, well-drilled groups of players – as a deadweight. Despite Kruse's periodic public barbs, the coach managed to extricate him from the squad with little fuss, no mean feat. It looks as if the striker's next stop will be MLS, possibly even this month.
A more recent situation has been that of Josuha Guilavogui, who has requested to be allowed to join VfB Stuttgart with his contract running down. Despite Guilavogui being somewhat less brash than Kruse, it is potentially a more complex situation. The 32-year-old has been a good servant, and has to be treated with tact and respect. The feeling is that Kovac, backed by a capable sporting director (and club legend) in Marcel Schäfer, is being firm but fair.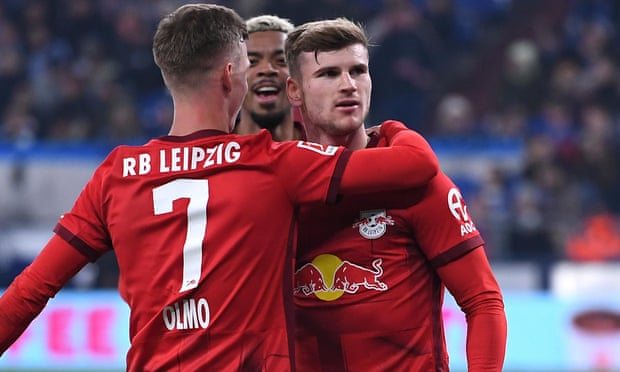 "If a player has a certain wish, then we listen to it," Schäfer insisted after the game in Berlin, "but that doesn't mean that we'll fulfil every one of them. I also want a lot of things, but they're not all possible." You can understand exactly why Kovac wants to hang on to the French midfielder, bringing him on in the second half in the capital to see things out as Kevin-Prince Boateng stood in front of the Hertha bench to try to get his side going, eliciting at least some reaction. "You can see how much we need [Guilavogui]," Schäfer back-referenced. "As soon as things get a bit agitated, his experience and presence become incredibly important."
For Wolfsburg have been where Hertha are, throwing around money with little plan or strategy. They work best when they are sensible and stable rather than flashy, which factors into their determination to hold on to Guilavogui for the season. He is one of three in the squad in the club's top 10 appearance makers of all-time, along with the goalkeeper Koen Casteels and the irrepressible Maxi Arnold, who is closing in on the club's record of 381 set by Olaf Ansorge in the Eighties and early Nineties.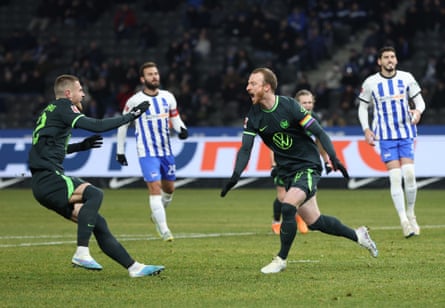 There is young blood too. Patrick Wimmer, who got the post-Christmas party started with a goal in the first minute against Freiburg at the weekend, was back to his speciality here – laying them on for others, as he set up Matthias Svanberg for the opener. As Kicker's Thomas Hiete noted, the Austrian's teammates had already merrily brought up over lunch the Opta statistic that only three players in Europe's top five leagues provide more than one key pass per match. The former Wolfsburger Kevin De Bruyne, inevitably, leads the way, with Lionel Messi in third, making it a Wimmer sandwich. "I've noticed," he grinned bashfully. "It's nice to be in there."
The 21-year-old's bag of five Bundesliga assists would look plumper were there a consistent goalscorer in Kovac's mist. Unlike Wolfsburg's last successful side, there is no Wout Weghorst to act as focal point. Manchester City academy product Lukas Nmecha offered promise in that direction, but had his ups and downs this season before sustaining the ankle injury that has kept him out since November, wrecking his World Cup hopes. In Nmecha's absence (his younger brother Felix is also at the club), goals have been spread around, with Yannick Gerhardt, Arnold, Ridle Baku and now Jonas Wind chipping in, as the latter three did again on Tuesday.
Wolfsburg have been on runs before. They built their sole Bundesliga title win, in 2009, on a run of 10 straight wins in spring, including the famous 5-1 over Bayern in which Edin Dzeko and Grafite ran amok. It is unlikely we'll see anything so dramatic from this generation, but their nod to the past has certainly helped the Bundesliga kick off 2023 in style.
Talking points
Bayern remain four points clear at the top but needed a Joshua Kimmich thunderbolt in the last minute to salvage a draw at home to a determined Köln side, who led for most of the game. "We lacked the attitude and focus," lamented Kimmich, while the sporting director, Hasan Salihamidzic, heavily criticised Serge Gnabry (who came off at half-time) for being "amateurish" in going to Paris fashion week rather than resting after the draw with Leipzig.
Another day of Dortmund, another unconvincing performance … but also another late winner from the substitute Gio Reyna, this time at Mainz. "We know we still have a lot of work to," admitted Edin Terzic. Sébastien Haller again made an impact off the bench, nodding Reyna in for his goal, but it feels as if BVB's current trajectory leaves them playing with fire in such a competitive Champions League race.
Elsewhere, full marks to Union, in second before Saturday's Berlin derby after a 2-1 win at Werder Bremen, and third-placed Leipzig, who shredded sorry Schalke 6-1, with the latter game marred by minor clashes between ultra groups.