New Chelsea signing Benoît Badiashile is the latest player to emerge from Monaco's unrelenting conveyor belt of talent and he won't be the last. The Monaco academy boasts a star-studded list of alumni: World Cup winners Thierry Henry, Emmanuel Petit, Lilian Thuram, David Trezeguet and Kylian Mbappé all graduated from the club. When Monaco tinkered with their successful formula of youth development, signing Radamel Falcao and James Rodríguez for big money, they won Ligue 1 and reached the Champions League semi-finals, but that strategy eventually proved unsustainable. They have since returned their focus to developing young players and it is working.
The correction was instigated by the club's president, Dmitry Rybolovlev, who appointed Paul Mitchell as sporting director in 2020. The Englishman has overseen a return to a version of their previous strategy and it is now bearing fruit. "We lost a bit of focus and vision on our strategy," says Mitchell, a former player who held backroom roles at MK Dons, Southampton, Tottenham and RB Leipzig before joining Monaco. "Fewer players were moving from the academy platform to the first team. We were recruiting externally en masse and spending an awful lot of money. Correcting this was one of the key objectives."
Aurélien Tchouaméni and Badiashile embody the cultural shift that has since gripped the club. "The game before the Covid break, they were both substitutes so it's really intriguing. From a strategy that had lost its way a little bit, you recalibrate, you apply these principles of performance and a clarity around wanting to develop talent, like Monaco historically has, and you take that player from being a substitute to playing for one of the biggest clubs in the world."
Both players were integral parts of the Monaco team that finished third in Ligue 1 last season. Tchouaméni then moved on to Real Madrid in the summer for €100m (£85.3m), with Badiashile joining Chelsea earlier this month for €37m. Badiashile, who is still just 21 years old, made 135 appearances for Monaco, including 106 in Ligue 1, becoming the only player born in the 21st century to register more than 100 appearances in France's top flight.
The young centre-back will not be the last big-money departure to leave the Principality. At the start of this season Monaco removed their academy side from the Championnat National 2 – the fourth tier in France – so they could focus on playing other youth teams in Europe. Monaco's young players are now competing in the Premier League International Cup, which comprises 12 Premier League academy sides as well as 12 other elite European academy sides.
"It is important to integrate into other contexts, like playing against Premier League academies," says Pascal De Maesschalck, the club's director of youth development. "If you play against Manchester United at Old Trafford in front of 10,000 people, it's a challenge, a different type of pressure. It wasn't something we could create last year. The experience is a thrill that motivates players even more and it is this aspect where I see a huge difference compared to last year."
First-team players and the Elite Group – academy players aged between 19 and 21 – are both based at the club's new training centre in La Turbie. "There are no barriers, no closed doors," says De Maesschalck. The close connection between the youth sides and first team helps players make the step up. Eliesse Ben Seghir is the latest talent to emerge from the academy. The 17-year-old burst on to the scene with a game-winning brace against Auxerre in late December and has started both of Monaco's league games since, including their 7-1 win over Ajaccio on Sunday.
"Eliesse is a beneficiary to the development of the Elite Group," says Mitchell. "The more contact points the player has with the first team, the more credit he can accumulate with the coach."
Mitchell says Ben Seghir is a "fearless", versatile modern attacking player who "wants to be the guy to take responsibility" in attacking areas. "Like we did with Benoît and Aurélien, we're going to see Ben Seghir's exponential growth in the next few years," says Mitchell.
Developing players such as Ben Seghir while maintaining the first team's results is a balancing act. Mitchell adds: "The club as an organisation – from the president, to myself, to the board – have to understand this is our model, our strategy, and also create a balancing effect when we're measuring what our outcomes are relative to our objectives"
Monaco recognise that they have to develop and export players to be successful. They know they sit within a pyramid, with the Premier League at the top, and they tailor their young players to suit that market. To do so, they have recruited various staff members with experience of English football. As well as appointing Mitchell as sporting director, the club also recruited James Bunce, formerly of Southampton, as performance director, and Laurence Stewart, who worked for Hull City, Manchester City, Everton and the FA, and has now returned to England with Chelsea.
"We have an English contingent, while being very balanced with great French practitioners," says Mitchell. "We have an understanding and a depth of knowledge from when we were in the Premier League, where we would look to sign and ascertain a profile that could be successful. We use that as a template when we recruit or develop our academy players because the Premier League is still the undisputed biggest league in the world, the biggest year-on-year spender. It is prudent for any business model that wants sustainability to build profiles that can be positively analysed, reflected and scouted by the biggest clubs in the Premier League."
Badiashile, an athletic, aggressive, technically gifted and Premier League-attuned defender, is not the first player to move across the Channel and he will not be the last. Monaco's conveyor belt of talent shows no signs of relenting.
Talking points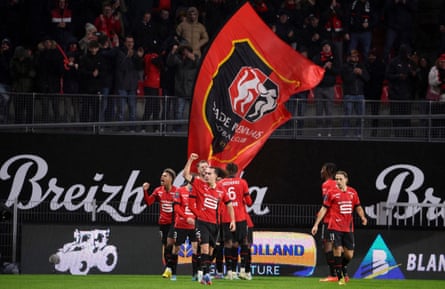 A post-World Cup malaise seems to have gripped PSG, who have lost two away games on the bounce, the latest defeat coming against Rennes. It is their sixth victory over PSG in the QSI era – no team has registered more. Lens took advantage of PSG's slip, beating Auxerre to close the gap to three points. Marseille's win over Lorient means the top three are now separated by just five points. The signs of PSG dominance were ominous before the World Cup, but a title race may now be afoot.
New Lyon owner John Textor was a notable onlooker as his team were beaten 2-1 by relegation-threatened Strasbourg in a match that was bookended by scenes of violence as fans vocalised their discontent at recent results. Lyon have lost eight games in the first half of the season, their worst record since 1997-98. The new-manager bounce under Laurent Blanc has quickly dissipated, with the club only winning one of their last six league matches.
Ligue 1 table