Sometimes chants work, sometimes they do not. And the great minds in the gallery who endeavoured to stretch the word "Kokkinakis" across the breadth of the Seven Nation Army riff had been too ambitious with their syllables. It was a bit Billy Mack, except that Christmas is All Around topped the charts – this lot had no excuse. At least back in the Lleyton era we got "Walking in a Hewitt wonderland". Now we must endure "Let's go, Kokky, let's go".
Granted, it was after 10pm by the time Margaret Court Arena welcomed Thanasi Kokkinakis and Andy Murray, and with late nights come the inevitable late-night vibes. "Aussie, Aussie, Aussie, oi, oi, oi" was still a staple among the Australians in attendance for this scarcely describable five hours and 45 minutes. But the collective inclination was more "Up the Kokk" than "If you're happy and you know it, clap your hands". The mood was jaunty, hovering precariously between mischievous and meddlesome, and it remained that way until 4.06am, when the pair finally – finally – hobbled off in a primal daze, their bodies emptied of their glycogen and possibly their sanity.
From the off, the chair umpire was impelled to herd the cats. Early in the first set she requested flags not to be waved during play. When the masses fell silent for the next point, someone made a fart noise. We are a long way from Wimbledon. Murray, who knows well what victory feels like at the All England Club, had probably never had a spectator shout: "Shut up, seagulls," as he was preparing to serve. The birds circling overhead were the least of his worries.
Not that Murray did not have support. "Go Andy" and "Come on, Andy" rang out at regular intervals. A British flag wrestled with an inflatable kangaroo for space. The Scot is well liked here, and his most ardent supporters stayed to the death. Both players are likable – and also like each other a lot. But this is a grand slam, and the mutual respect was at times outweighed by pressure. Tensions peaked early in the third set after Kokkinakis, up 2-0, set about saving three break points. With the advantage he serve-volleyed, going in for the kill, only for Murray to lob back four consecutive smash attempts and then somehow wrest back control of the point. The crowd's tireless persistence forced the umpire into a "ladies and gentleman, again, please, quiet". It all fell apart in the point after that when Kokkinakis received a time violation for stopping and restarting his serve motion because of the noise.
He raced over to the umpire. "What is that shit? You cannot call that, I'm waiting for him to stop talking." The tirade lasted a good 30 seconds. Murray kept his powder dry and returned the following serve. When Kokkinakis mis-hit it off his frame and then lost his service game, he smashed his racket and earned a code violation. Murray spoke then. Roared, really. True to form, he did it the hard way, but did it all the same. He sat down for the change of ends and, as Kokkinakis ran off in search of someone else to complain to had his own words with the umpire. "Why do you give a warning for racket abuse and he swears 60 times and it's fine? Some game," Murray said, shaking his head. He held his next service game to love.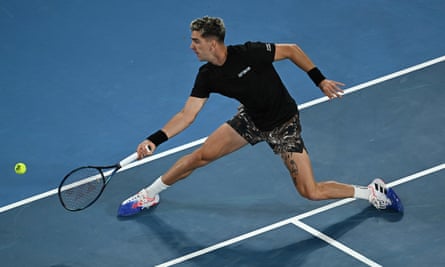 The thing about Murray is he was not just hurting, he was audibly hurting. Groaning with every pivot, each twist of his metal hip. At times he was barely walking between points, only to chase the ball to every corner of the court. Kokkinakis is almost a decade younger than Murray who, at 35, has just played the longest match of his career and marked the 11th time he has come back to win from two sets down.
Even so, a tennis player has usually found his or her highest level by the time they hit 26. When Murray was that age he was world No 2. Kokkinakis is ranked 110th, and may just be an exception to this rule, for it seems he still has some rising to do. His career-high ranking of 69 back in 2015 preceded the litany of injuries that plagued him until 12 months ago. Since then he has mostly been known as the other half of the Special Ks doubles combination alongside Nick Kyrgios. On Wednesday a journalist accidentally called him Nick during his first-round press conference, prompting some first-class Twitter banter with Kyrgios, who renamed him "Kyriakis".
But he is as talented a solo artist as he is a member of the band. Murray had him on experience and match management but he matched his elder in tenacity. And his fluency – a remarkable sign of stamina under the circumstances. Even some of the departed spectators did not posses the same level of staying power. This marathon started well over an hour earlier than the latest completed match in grand slam history – the Hewitt v Marcos Baghdatis five-set epic of 2008 which finished on Rod Laver Arena at 4.34am – and still came close to beating it.
Things will surely be said about the tournament's scheduling after this. Right now, though, is about Murray – and his big heart. "It was unbelievable that I managed to turn that around," he said. "Thanasi was serving unbelievably, hitting his forehand huge. I started playing better as the match went on and, yeah, I have a big heart."
"You have a big everything, I think," said his interviewer, John Fitzgerald. Murray returned serve: "I'm not sure my wife would agree."