Stefanos Tsitsipas has always had a Novak Djokovic problem. It was a lost-the-last-nine-matches type of problem – not the archetypal self-affirmation statistic for his bathroom mirror. Now it is 10 and he is no less of a competitor for it, merely the latest victim of a champion who, in Tsitsipas's own post-match words, is "the greatest that has ever held a tennis racket".
At least he is not alone. A lot of people have a Djokovic problem, and the list is not limited to other players (though 22 grand slam singles titles means there are many of those). The public, the media, even Ukraine's ambassador to Australia have all spent the past two weeks examining the Serb with a level of suspicion reserved for one of sport's most divisive figures.
There were the accusations he was faking his hamstring injury, and then of cheating over the mystery note taped to the bottle of mystery liquid delivered to him on court. In recent days, the allegations his father sympathised with Vladimir Putin supporters overshadowed all of it.
Whatever the veracity or otherwise of any of it, to not have foreseen a discordant reception is like failing to anticipate that Djokovic will serve important points to your weaker backhand side (sorry, Stefanos). The point is more about the Djokovic response. After his semi-final win he conceded "like things are just kind of piling on", but also that "it's been part of my life" and he must "become more resilient, stronger".
What that has looked like on the court is a man consumed but not gobbled up – by his sole objective of becoming the greatest of all time. He has tornadoed through the rounds at Melbourne Park as if in a vacuum; his critics voiceless, his opponents faceless. Even his 2021 Roland Garros final against Tsitsipas became a case of selective amnesia. He may as well be playing on the moon, a space suit shielding him from the outside environment; his own psychological extravehicular mobility unit.
And even from within his pressurised safe space, he was inside Tsitsipas's head. Djokovic has never lost a semi-final or final at Melbourne Park because there is no clear blueprint for beating him. Though his body is 11 years his opponent's senior, he did not just get to his wide shots but reached them in position, balanced for a meaningful return, shrinking the court as he went.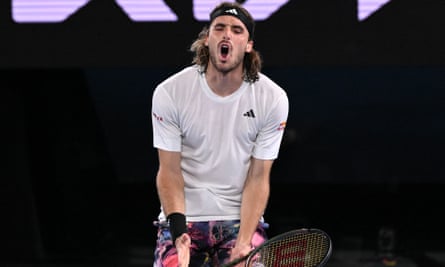 There were moments in the second set when his special kind of armoury risked springing a leak. His father was not in attendance but his mother was, and Dijana buried her face in her hands as her son let fly two unforced errors and a double fault in one of the more tense tie-breaks to have been played. Djokovic himself could not stop talking, motor-mouthing, a bit at himself but mostly at his box. Goran Ivanisevic motioned for him to calm down. But Tsitsipas, fight though he did, had not received the memo: Djokovic has not lost a single match in his 17 Australian Open campaigns after winning the first set. He is now 93-0 in that department.
And the Djokovic normality almost always resumes. A third set with a total of four unforced errors. An inexorable fire stoked by adversity. When the moment came he stopped still, as if suspended in unreality. He touched his finger to his head – Marcus Rashford was still in school the first time Djokovic did that – and then to his heart. And on the court of his nine previous victories, the court on which he was not allowed to play in 2022, he requested the applause that came.
The facade was gone then. He climbed into his players' box, sunk into the bodies, wept and shook on the ground under the seats for all to see. The thousands inside the Rod Laver Arena were bolstered by many more just outside the gates, a football-esque crowd split almost evenly by Greek and Serbian flags.
To his presentation ceremony he wore a shimmering white jacket. On its chest were tiny Lacoste alligators forming the numbers '22'. He had planned for this, after all. "I have to say that this has been one of the most challenging tournaments I have ever played in my life, considering the circumstances," he said. "Not playing last year, coming back this year. I want to thank all the people that made me feel welcome, made me feel comfortable to be in Melbourne, to be in Australia."
To Tsitsipas he offered a reassurance this will not be his last grand slam final: "You still have lots of time, much more than me."
And Tsitsipas thanked Djokovic for his Djokovic problem. "I'd like to thank you for pushing our sport so far," he said. "I think it deserves a player like you that pushes everyone, every single player, every single individual that's involved in the sport, to the max. I think you make me a better player when I am on the court, so thank you."