It was always going to be aesthetics, and so it proved. The importance of only the eighth top-flight derby between Hertha and Union was everywhere you looked – not least in the sold-out stands of the Olympiastadion, such a contrast to the relatively paltry turnout for Wednesday night's humiliating hammering for Hertha at the hands of Wolfsburg.
The problem was that, even at such an early stage of this as an elite-level rivalry, we already knew which way this was going, and so it proved. Hertha's coach Sandro Schwarz had suggested in Thursday's pre-match press conference that the result didn't matter as much as the performance, trying to take any unnecessary drama out of the moment – which succeeded and failed at the same time.
The performance was the necessary riposte to the Wolfsburg debacle. Hertha were motivated and applied themselves well. The problem was the result. In fact the problem, really, was Union. They are too polished, too canny these days to need the performance of a lifetime to win a game like this. Hertha probably shaded the first half and then Union scored a typical set piece on the brink of the break, with Danilo Doekhi (again) soaring to power home a Christopher Trimmel free-kick (again). "We were clinical," was how Union coach Urs Fischer put it. This is what they do on a weekly basis. Hertha, it seems, are just another match for them.
There was more consternation about the clincher, with Hertha crying out for a penalty for Rani Khedira's challenge on Marc-Oliver Kempf before the visitors broke and Sheraldo Becker set up Paul Seguin for an easy second. Referee Felix Brych examined the images, turned away the protests and gave the goal. It was a hard-luck story of the little man versus the giant; except now Hertha are the minnow, and Union the ogre. They left to go back east to Köpenick in second place, a mere point behind Bayern. This was their fifth successive derby win, and they sit 22 points ahead of Hertha, who remain second-bottom.
So even if Hertha did as well as might have been expected in the circumstances, something had to happen, and happen it did. The announcement of the removal of sporting director Fredi Bobic was made shortly after the match, but again it was a matter of timing and appearances. Minds had already been made up. "It wasn't," emphasised president Kay Bernstein in Sunday's press conference, "a kneejerk reaction."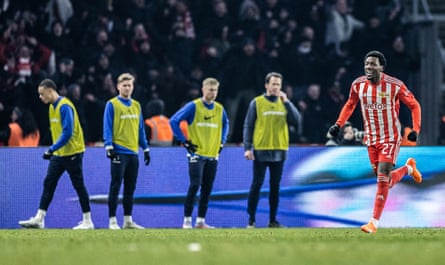 Bernstein was speaking to introduce Bobic's replacement, a real Herthaner in Benjamin Weber, who fulfilled a number of roles at the club over almost two decades of service (including academy director) until leaving last year. Weber will be assisted by Andreas "Zecke" Neuendorf, another familiar face at the club.
"I'm from Berlin, I'm from Hertha," said Weber with insistence and passion. "I'm really excited to be coming back to my club and I'm dying to get going and tackle the challenges." Bernstein explained how Bobic had arrived at a club "under different circumstances", with major investor Lars Windhorst set to sell his stake after an unsuccessful tenure incorporating hundreds of wasted millions of euros and several fallouts with major figures at the club (his shares will go to US investment firm 777 Partners, pending Bundesliga approval). So reduced means will be part of the future. Yet if Bobic doesn't suit the new vision, one could say the same of some of the present players, bought with much bigger ambitions in mind than avoiding the drop.
This was another useful, if unwelcome, reminder that Union – with their stability and sensible building – are a blueprint to be copied. The insistent chant of "Stadtmeister! Stadtmeister!" (city champions) had rung from the away end at full-time with the same insistence as the bank of red flares had burned bright from the same section earlier in the afternoon, oblivious to the pleas over the tannoy to desist. The mood in the capital, on both sides, is like a tidal wave at present, impossible to turn back.
Talking points
Bayern's lead has been whittled down after a third successive draw, this time at home to Eintracht Frankfurt, leaving them still without a win in 2023. Before Wednesday's trip to Mainz in the DfB Pokal, there is certainly scrutiny of Julian Nagelsmann's work, if not quite the immediate threat of dismissal, with concern of the champions dominating games but not havin the leadership to assure the essentials for victory. "It is clear," wrote Georg Holzner in Kicker, "[that] it is no longer a matter of individual slip-ups, but of fundamental problems in this Bayern team." After taking the lead through Leroy Sané in the first half, they were suckered by an excellent Randal Kolo Muani equaliser for the visitors, making Sunday's informal team lunch in Munich feel like more of a crisis summit than was intended.
We can now officially say that no team has garnered more Bundesliga points than Leipzig since the arrival of Marco Rose on the bench, after the 2-1 win over Stuttgart, authored by Dominik Szoboszlai's spectacular brace. The downside came with a thigh muscle tear for Dani Olmo that will keep him out of action for several weeks. Added to the continued absence of team star Christopher Nkunku, Rose's attacking options are diminishing for the Champions League meeting with Manchester City.
Dortmund added their third (and most impressive) win out of three since the resumption, which came with a bonus clean sheet at Leverkusen in Sunday's late game. Gregor Kobel, as always, did his bit to earn that – with one particularly outstanding save from Moussa Diaby – but BVB felt more organised than has been habitual and Edin Terzic was quick to point out the options given to them structurally by a first start for Sébastien Haller, who helped to create the under-fire Karim Adeyemi's first Bundesliga goal, after which he looked mightily relieved. Dortmund retake a place in the top four.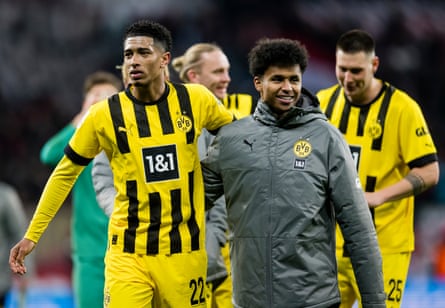 After this column celebrated the rise of Wolfsburg they suffered a surprise defeat, their first since September, in falling 2-1 at Werder Bremen, a much-needed win for the Weser club and their coach Ole Werner on the back of – inevitably – a brace from Niclas Füllkrug. After the match the Germany striker addressed his recent change of agent, reiterating that he is staying at Werder for now, but admitting that he had rejected offers from other clubs.
After a promising start at Borussia Mönchengladbach things had been tougher for Daniel Farke of late, with two defeats to restart the campaign – not to mention the prospect of a clutch of stars having expiring contracts, with stalwart goalkeeper Yann Sommer having already left for Bayern. What better to lift morale, then, than a first away win of the season, 4-1 at Hoffenheim? Jonas Hofmann got them off to a first-half flier with two of the most Jonas Hofmann-esque goals you'll ever see him score, meeting Farke's demand for "more attacking investment". Hoffenheim, winless in eight and sinking fast, will hope to be boosted by the loan arrival of Thomas Delaney from Sevilla.