As Barcelona's players came back out of the dressing room, along the corridor and turned left, heading down the stairs past the chapel presided over by the virgin of Montserrat, there was clapping and the usual shouts. A "come on" here, a "let's go" there, a "do it, team". And then, just before the last of them ducked into the light, 77,987 people waiting on the other side for the second half to start, a voice said something none of them would say publicly: "Today is the league, eh!"
It was half-time on Sunday and in the season – 19 games gone, 18 and-a-half to go – and they still hadn't found a way past the Sevilla keeper, Yassine "Bono" Bounou, and they knew what this meant. By the time they returned, 45 minutes and three goals later, the victory they needed now secured, everyone else did too. The TV wrap opened with a classic statement turned question: "Is there league?" As the presses rolled, the front of Sport and Marca – papers that could fight over whether it was sunny out – actually agreed: if there is, Barcelona had delivered it a "blow".
With a little over 20 minutes to go in the final match of the weekend, Joan Jordán, the Sevilla midfielder, had been handed a note but it hadn't helped, which didn't surprise anyone watching him try to work out what it all meant. Already a goal down, not so much a scrap of paper as a map, unfolded now never to be folded back up again. By the time Jordán had deciphered the instructions, Barcelona had scored again. Soon they had a third. Sevilla didn't get a shot on target until the 88th minute. "If you wait so long, they'll get you," Ivan Rakitic said.
True, if not always like this. All three goals had been superbly made and by men who haven't been key players, a glimpse of a strength in depth not immediately apparent at Camp Nou. Franck Kessié brought out his inner Laudrup, or Romário or Ronaldinho, or was it Iniesta – it was someone good anyway – to set up Jordi Alba. Raphinha's clever pass left Gavi somehow standing alone on the line. Alba, receiving Frenkie de Jong's lovely ball, played in Raphinha to complete Barcelona's fifth consecutive win, their 10th in 11 games, and carry them clear – with a little help from Mallorca.
Earlier that afternoon, in a match with 43 fouls, where the player-on-floor stats were almost as high as the ball in play, Real Madrid were missing Karim Benzema, saw Thibaut Courtois get injured in the warm-up, scored an own goal, didn't manage a shot on target except from a penalty (which they missed), finished with Antonio Rüdiger up front and Mariano on the pitch, and lost 1-0. So when Barcelona arrived at Camp Nou, they knew that if they won, they could go eight points clear. In the second half, they did and although no one was saying out here what they had said in there, they knew what it meant.
"Madrid leave half the league on the island," Marca lamented. "Madrid run from the fight," bemoaned AS. "It's been the perfect day because from second to sixth all dropped points," Xavi said. At the end of a weekend when only one of the top six won and only one of the bottom seven lost, the table now has his team 18 points ahead of Atlético Madrid, fourteen above Real Sociedad, and eight above Real Madrid. "It's a good distance," Alba admitted.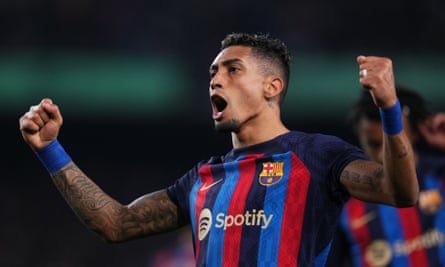 It is a very good distance. "Eight points away!" cheered the cover of El Mundo Deportivo, its cartoon inside depicting Xavi's team as an A8, numberplate FCB53. There was no Real Madrid hanging off its back bumper, not yet, but if any team can stage a comeback – can be that T-1000 suddenly appearing in their rear-view mirror, all murderous intent and indestructibility – it is them. "I've experienced it as a player, I don't want to experience it as a manager," Xavi said. He was there in 2007 when 18 absurd seconds took the title from his team, Espanyol's Raúl Tamudo scoring a goal that AS described as the "Shag of the Century" and which handed Madrid the chance to win a league that was almost as impossible, as ludicrous, as last season's Champions League win. Yet even Madrid have never overhauled a gap this big, while Barcelona have never relinquished a lead this size either.
Which isn't to say it can't happen. In 2003-04 Valencia, out of it when they were defeated at the Bernabéu, clawed back eight points on Madrid to win the league – and that was in just 12 weeks, let alone the 18 that remain now. "There's an entire world left," Xavi rightly insisted. Barcelona would have to lose three times, but that isn't impossible and they have not always looked impenetrable. Or perhaps they have, even if it hasn't always been easy to explain, and perhaps that's the point. Isn't winning when you're not looking that good, somehow finding a way, the sign of a title-winning team?
In midweek, Barcelona defeated Betis 2-1. They won their previous three games 1-0 – a run unmatched since 1980 BC, Before Cruyff – and Sunday's 3-0 victory was the first time in seven that they had won by more than a solitary goal. But there they are.
When Barcelona lost the clásico 3-1 in October, it felt like a non-event, a little flat, almost easy. If there was something there, it didn't seem like much. They had just been knocked out of the Champions League, a second defeat against Bayern was on the way, and it seemed to make a lie of their early season promise. Madrid's fans oléd and chanted for Xavi to stay, convinced that he couldn't compete with them.
They were wrong. Barcelona took Madrid apart in the Super Cup final and have overhauled 11 points in the league since; not just because Madrid have slipped up – beaten by Mallorca, Rayo and Villarreal – but because that clásico defeat was Barcelona's last in the league. Unbeaten in 15 games in all competitions, 11 in La Liga, they have only dropped points three times: to Rayo, Madrid and Espanyol. They reached halfway as winter champions, having played everyone once. They have 17 wins in 20 league games, have conceded just seven – three of those against Madrid – and have kept 15 clean sheets.
If that, too, can look slightly false – their expected goals against is twice the actual number – then it's true that Marc André ter Stegen has discovered special powers, like Homer Simpson taking Snake's hair. But that's what a goalkeeper is there for. If it's true that Robert Lewandowski has won matches they wouldn't otherwise have won, disguising flaws and taking them top two-and-a-half years later, well, that's what he's there for too. Besides, the stats still present a compelling case, and that was then and this is now. Lewandowski, returning from a ban, has only scored once in the league since the World Cup – the tension occasionally seeming to show on Sunday night – but they have kept winning.
If this is a less Xavian team than this ideologue, this defender of the faith, would like, the discourse not always entirely in tune with the reality, they have still had more of the ball than anyone else and conceded fewer shots than anyone else. There were spells against Sevilla in which possession was up near 90%. The xGa (expected goals against) is higher than the actual goals, but still lower than anyone else's. In any case, the process is only beginning and there is intelligence in adaptability; it was always going to take a while to take shape, which it is now.
If there was an uncertainty about Ronald Araújo, this mountain of a man but not from la Masia, that has been overcome. Like some invisible comfort blanket, Andreas Christensen has provided silent security alongside him. If Jules Koundé doesn't really want to be a full-back, he's very good there. Alejandro Balde and Alba have shared the other side: "I'm not here to send messages to the manager," Alba said on Sunday, as everyone wondered who this guy was.
If the coach had doubts over Gavi, those too have been overcome with a new formation in which he becomes an extra midfielder notionally playing up front, his touch and temperament fundamental, a boy to follow into battle, leading the charge constantly, the catalyst for change. Pedri is scoring goals on top of everything else. If they tried to push De Jong out – and did they ever, however much they claimed otherwise – he is now very much in, giving Sergio Busquets company.
Previously an irrelevance, forever injured, threatened and told to leave, Ousmane Dembélé is still there, a system-breaker but a success very much of Xavi's making. In his absence on Sunday, Raphinha led them, getting closer with each goal: a pre-assist for the first, an assist for the second and a finish for the third as Barcelona won another match that wasn't just another match. This might mean the league, they knew. Someone said so.