There is a lot wrong at Everton. Vast sums have been spent very badly and again the board stayed away for its own safety, but just because there are a lot of things to put right it does not mean that you shouldn't correct the things you can. And just because clubs are often unduly impatient with managers it doesn't mean that a change isn't sometimes necessary. Sean Dyche's first game in charge after replacing Frank Lampard brought Everton's best performance and best result of the season.
It says much about how well Everton played that Arsenal seemed so flat. It's the performance as much as the result that calls their title credentials into question. Even Mikel Arteta, usually so energetic on the touchline, seemed subdued, as though recognising how his side had been overwhelmed, in part by the weight of Everton's history, the ghosts that have been summoned over the past few days, and in part by Dyche and his sheer energy, his obvious relish at being back in a Premier League technical area.
Sometimes he was hailing a passing bus, sometimes declaiming over the body of the fallen Caesar, sometimes impersonating Tommy Cooper, sometimes gently picking through a prelude on an invisible piano. At one point he appeared to be pulling on a diving helmet. Most of the time, particularly after half-time, Dyche was bellowing at his defence to push up, with expansive wafts of his right arm. At the end, as Goodison erupted, there was a brisk handshake with Arteta and a couple of members of his staff, a brief acknowledgement of the crowd in a few sharp claps and then he was down the tunnel. There was no milking the moment; there is still a lot of work to be done.
Dyche had spoken of wanting to recapture the spirit of the eighties, which is reasonable enough if only as an appeal to the traditions of the club. But part of the problem with the modern club is that a trip to Goodison, feels like stepping back in time. Most clubs deal in nostalgia pre-game, but at Everton even their nostalgia feels old-fashioned. But how different "Grand Old Team" sounded at the final whistle, when it was raucously celebratory, to before kick-off, when it had seemed almost sarcastic.
In the eighties, particularly during their Cup-Winners' Cup success in 1985, Everton had been a pioneer of a five-man midfield and Dyche, ripping up the 4-4-2 blueprint of his Burnley days, paid homage to that. He had always said that he cut his cloth according to the available resources at Turf Moor, that nobody should think the way his Burnley played was the only way he could play; few, presumably, realised he meant he had an even more rugged gear to turn to.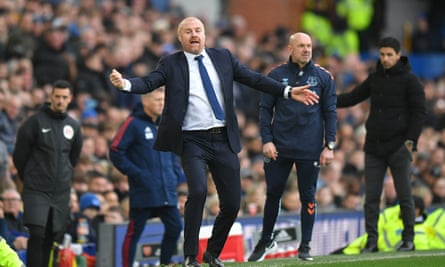 In that, there was a nod to a very different era of Everton, the dogs of war days of Joe Parkinson, Barry Horne and John Ebbrell. Even the goal recalled the first game of Joe Royle's survival push after replacing Mike Walker in 1994-95. Then, in a 2-0 win over Liverpool, Duncan Ferguson opened the scoring by heading in an Andy Hinchcliffe corner at the Gwladys Street End. On Saturday it was James Tarkowski heading in a delivery from Dwight McNeil in front of the same stand. It may have echoed Everton history but in the combination of two former Burnley players, it was also pure Dyche. All game, inswingers dropped on top of Aaron Ramsdale had caused problems; simple it may have been, but it was undeniably effective – which really is the essence of Dyche.
There was aggression and energy and purpose. It might not have been quite the lunging Phil Neville foul on Cristiano Ronaldo that is credited with igniting a previous renaissance under David Moyes but from the moment Vitaliy Mykolenko clipped Martin Ødegaard in the sixth minute, the difference in mood and organisation was obvious.
The central midfield of Idrissa Gana Gueye, Amadou Onana and Abdoulaye Doucouré snapped and snarled, never giving Arsenal a second, while remaining compact enough that there was rarely space for Arsenal to pass through. Ødegaard, usually the creative hub of Arsenal, was as quiet in the first half as he has been all season. And the crowd responded.
There had been demonstrations outside before kick-off and early in the game a plane flew over dragging a banner that proclaimed Everton "the league's worst-run club". Dyche had called for even the most disgruntled fan to put their grievances aside for the duration of the match, and he couldn't have complained about either the ovation he received or the backing the crowd gave his players.
Perhaps there was a degree of fortune that Eddie Nketiah and Ødegaard both blasted good chances over the bar, and that Conor Coady was able to block a first-half Bukayo Saka volley on the line. In other games, staying and using the opposition's frustrations against them will not be enough. But this was no smash-and-grab.
Rather it was the result of a carefully thought-out plan and players and crowd responding to Dyche and his brisk efficiency, to good management.