This changes everything. That was the netball world's collective reaction when Gretel Bueta – arguably the best player on the planet – revealed at the weekend she is pregnant, meaning she will miss the World Cup in South Africa later this year and the Super Netball season.
The 29-year-old has not played for Australia since last year's gold medal-winning Commonwealth Games campaign, where she was among the Diamonds' most dominant players, terrorising defenders with her agility, aggression and accuracy.
Shooting with 96% precision in seven matches, Bueta – who took up netball late after representing Australia in basketball as a teenager – scored the second-most goals in the tournament, behind Jamaican icon Jhaniele Fowler, and had a flawless 37/37 final.
After announcing and losing a pregnancy late last year, she stepped away to reassess and has since been absent from public view, missing last month's Quad Series in Cape Town, which the Diamonds won without dropping a game.
An Instagram post on Saturday explained why with the announcement that she and husband Niko Bueta are expecting a brother for their two-year-old son Bobby, prompting congratulations from the Queensland Firebirds, Diamonds, fellow players and fans. It also sent a ripple through the sport.
If available, Bueta would have been a lock for a spot in the 12-woman World Cup squad and a nightmare for every opposition team to combat. The implications are many, most notably for the world's No 1 side.
The Diamonds will lack a certain shine without her at the World Cup. She is a quintessential "x-factor player", equally gifted at goal attack as at shooter and as an unconventional player, nearly impossible to match-up one-on-one, as Jamaica found in the Commonwealth final.
Even though Australia were able to win the recent Quad Series without her, it is accepted that any Diamonds side is better with Bueta in it.
Stacey Marinkovich knows too that Bueta is not a like-for-like player, someone who can be simply replaced by another. Without her first-picked star, the coach has to pivot and reassess her whole attack end.
The original plan for the World Cup may have been to take the same four goalers from Birmingham – Bueta, vice-captain Steph Wood, Cara Koenen and Kiera Austin – despite having tried Sophie Garbin, Sophie Dwyer and Donnell Wallam in series since the Games. But that's no longer an option.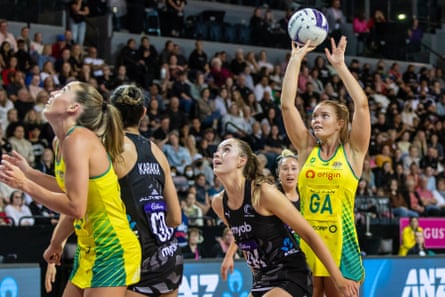 If goal attack Wood and shooter Koenen can stay fit and in form at the Sunshine Coast Lightning this Super Netball season, their places remain safe and they should be the go-to line in Cape Town. But the other two spots are wide open, as Marinkovich now needs more cover at goal shooter.
Melbourne Vixen Austin plays most of her minutes at goal attack, can swing to wing attack if needed but is rarely seen in the GS bib, while Garbin runs goal attack at the domestic level for Collingwood but predominantly plays as a holding shooter on the world stage. It's a big call to pick her for shooter when she's played an entire season out in front.
Then there is 22-year-old Dwyer, a goal attack specialist, and the third Indigenous Diamond, Donnell Wallam, who many thought unlucky to not make the 15-member Quad squad.
By most measures, still-green Dwyer isn't ready but 193cm Wallam, who exclusively plays goal shooter, may be a bolter.
It could be argued that the 29-year-old, who also has a basketball pedigree, has many of the same attributes as Bueta; agility, accuracy and an ability to bamboozle opponents with creativity. Like her Firebirds teammate, she is tall, tough and wily.
Although she wasn't in the selected 12, Wallam travelled to the Commonwealth Games as a training partner, so is familiar with the high-performance environment and has had match-play against the best Australian defenders in camp and in Super Netball matches in recent years.
But Wallam lacks big-stage experience, having played just two Tests in the gold dress, both against England, a side on a downward trajectory. But what minutes they were.
In her Diamonds debut in Newcastle in late October, Wallam shot at 100% when she came on in the last quarter and showed a calmness that belied her inexperience to sink the winning shot in the dying moments with a lay-up that has gone into netball folklore. It was in the same week she found herself at the centre of the Hancock Prospecting sponsorship furore.
In her second outing, she missed just one goal in 37 minutes, and easily carried the weight of goal-scoring responsibilities.
Wallam is not a true known quantity though and has not been tested against world-class defenders such as Kelly Jury, Jane Watson and Sulu Fitzpatrick, who will be formidable for the Silver Ferns come the World Cup after a full New Zealand domestic season. England's defenders have had a look at her, but she retains an air of mystery, which can be a benefit at a World Cup.
If the Noongar woman can put together a decent Super Netball season, it might be her name reverberating around Cape Town in the absence of Bueta.