At the southern end of San Siro, Milan's Ultras did their best to set a tone. "The champions of Italy welcome the champions of Arabia," read the banner hung from that dizzyingly vertical second tier, reminding Inter counterparts at the far end that a Supercoppa victory in Riyadh could never mean as much as a scudetto.
There was just one problem: nobody has seen Milan's title-winning side since before the World Cup. The team who have taken the pitch in 2023 are the palest of imitations, familiar faces playing unrecognisable football. They had won one out of seven games so far this calendar year, and lost the last three by a combined scoreline of 12-2.
In the lead-up to this derby, Stefano Pioli sequestered his squad for a behind-closed-doors training retreat. He needed to shake things up, though not everyone might have shared his conviction that sidelining his best player was the way to do so.
Rafael Leão was Serie A's player of the year last season, and has been Milan's top scorer and leading assist provider so far in this campaign. Just like his teammates, he had struggled to find his best form in 2023, yet he still bagged a goal in the only win of the year, away to Salernitana, and another in the 2-2 draw at Lecce.
Pioli had already dropped Leão to the bench for the preceding game, which ended in a 5-2 home defeat to Sassuolo. Instead of restoring him to the starting XI, as most expected, against Inter, the manager responded by abandoning the 4-2-3-1 formation that carried them to first place last season.
On paper, Sunday's team looked like a 3-5-2. In practice, with wing-backs Davide Calabria and Theo Hernández showing little adventure, Milan had a five-man defence. A team whose winning identity under Pioli had been built on possession football and a high press chose to approach the derby in an unfamiliar low block.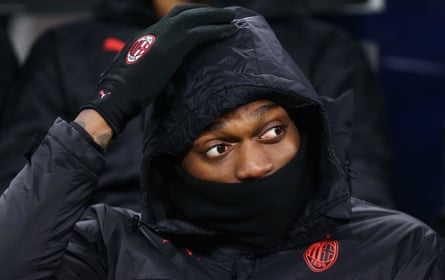 The result, in the first half, was a non-contest. Inter held the ball for almost three-quarters of the time it was in play, taking nine shots to Milan's zero. They were not especially creative, but did not need to be, breaking the deadlock with a Lautaro Martínez header from a corner in the 34th minute.
It was not just Milan's new formation holding them back, but also the personnel. Instead of Leão, Pioli started Divock Origi up front alongside Olivier Giroud. Neither player had the pace to unsettle Inter's defence, leaving the Rossoneri with no threat on the counter.
Only in the second half, as Pioli gradually adjusted his team back into a more familiar shape, did Milan show signs of life. Brahim Díaz came on for Junior Messias, Alexis Saelemaekers for Calabria and Leão for Origi. It was the Portuguese who created their best chance at an equaliser, playing Giroud through on goal in the 75th minute.
It felt like one of those moments written in the stars. Almost exactly one year earlier, at almost exactly the same moment of the derby, Giroud had rescued Milan's title bid. They were a goal down back then, too, and had dropped five points in the preceding two games, but Giroud scored twice in three minutes to set them on course for the scudetto.
There would be no repeat. Giroud got his touch all wrong, and Milan finished without even making a single attempt on target. Inter won 1-0, and the margin could have been wider, with both Lautaro and Romelu Lukaku having goals disallowed late on.
Pioli brought a defiant tone to post-game interviews, insisting that he would choose the same team again. His assertion that Milan needed to change something to stop conceding so many goals – 19 in seven games across all competitions so far in 2023 – rang true, but a team that creates no chances at the other end is unlikely to go very far either.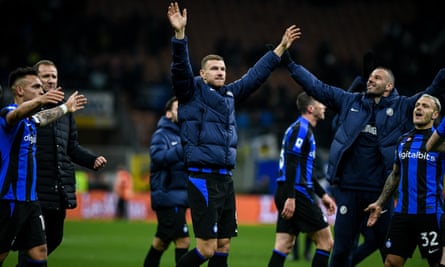 How did we reach this point? Among the most celebrated aspects of Milan's title win was the fact that they had achieved it with one of the youngest squads in all of Serie A, suggesting an opportunity to build even further. Napoli's scintillating form this season has left all other teams in the dust, but the Rossoneri still ended 2022 in second place with a solid 33 points from 15 games.
With hindsight, it is easy to say that the club did not do enough to build on last season's success. A thin squad has been stretched by a combination of injuries – starting goalkeeper Mike Maignan has made just seven league appearances – and departures such as Franck Kessié's move to Barcelona.
None of the players brought in last summer have made a positive impact so far. Charles De Ketelaere, Malick Thiaw, Aster Vranckx and Divock Origi have started 13 games between them. The first three of those are 21, 21 and 20 years old respectively, and might yet have bright futures, but that may be scant consolation for a team that is slipping out of the Champions League places at present.
Defeat on Sunday left Milan joint-fourth, level on points with Lazio and Atalanta, pending the Rome club's game away to Verona on Monday night. As Pioli acknowledged on Sunday, missing out on Europe's top club competition would be very bad news indeed.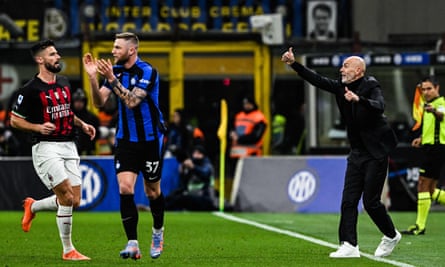 His accompanying statement that he plans to persist with the new back three may not encourage supporters. None of Milan's defenders have avoided high-profile mistakes in recent weeks but Fikayo Tomori's ongoing hip injury means that such a formation would certainly mean more starts for the struggling Matteo Gabbia.
The most pressing question for many, though, will revolve around Leão. Pioli defended his team selection against Inter by saying that he wanted to play with a pair of closely connected centre-forwards and that the Portuguese was not suited to such a role. Yet it is hard to shake a sense of something deeper going on.
Leão's contract expires in 2024, and optimism for a new deal has faded amid reported disagreements over the release clause. Even in happier times, Pioli had gently accused the player of failing to tap into all of his potential, suggesting that more application could take him to new heights. Might the two not be seeing eye-to-eye?
One way or another, the pressure is on to find answers quickly. "Pioli's on fire," was the chant as he led Milan to glory in the spring. But as those supporters in the Curva Sud mocked their rivals' Supercoppa success on Sunday, a pair of Inter fans responded by raising up a smaller banner at the far end. "Pioli is on ferie," it read – "on his hols," – goading the manager with the possibility that such poor form could finish up in an enforced break.