Antonio Conte likes to talk about suffering. There is a limit to all things, however, and the suggestion of an unexpected appearance on the touchline on Sunday afternoon despite midweek surgery to relieve the unconscionable agony of an agitated gall bladder may be a step beyond even Conte's powers of defiance.
Still there is something unavoidably resonant about the world's most gloweringly inflamed football manager having problems with an organ medieval science identified as the source of the choleric emotions: fury, aggression, ambition, impatience. This is what a year and a half of managing Tottenham will do to you. They got Antonio. They got his gall.
Conte is not alone among his peers in experiencing distemper this season. Look back at last year's Premier League table and all of the top four coaches have suffered to some degree. Thomas Tuchel was sacked at Chelsea for the crime of not really understanding what Todd Boehly is up to. Jürgen Klopp is wrestling with an insidious case of squad decline. Conte has felt like a heavy presence at Spurs, griping and fuming and conducting his pre-failure reputation management in public.
But it is Pep Guardiola, his opposite number, as Manchester City travel to a stadium where they have never scored a goal in the league, who has enjoyed the most intriguing season so far.
It is always a mistake to overplay the importance of Guardiola's frame of mind, to see doom-laden significance in his moods and fits of pique. An unhappy Guardiola is also a fully-functioning Guardiola. His entire career-long obsession, his serial triumphs, even the physical texture of his teams is built on anxiety, a lust for control, the endless picking away at details.
The time to worry about Guardiola is when he goes cold. Successful seasons will bring gripes and bugbears. Right now it is the shipping out of João Cancelo, the word clouds of his public statements and the talk of hunger and motivation that define the current preoccupation.
The assumption was that Guardiola's season would be spent fine-tuning the tactical shape around Erling Haaland, soldering this pure straight blade to the front of the City machine. This has happened. But in the foreground Guardiola has gone big on culture, body language, will, hunger, like the man who comes to fit your gleaming new Norwegian pine parquet floor, a perfect finish to the perfect project, and halfway though detects the first little twinge of wet rot in the beams. You can have the finish. But this lot? This lot is going to have to come out. Seven years into his City span, Pep has begun to strip it back.
There is a kind of recklessness to this in the post-window wash as City travel to north London for one of the trickier steps in their pursuit of Arsenal. Shipping out the (at times) best full-back in the Premier League mid-season with no replacement because of vibes and feelings and personality clash might alarm some City fans. But it is part of a process. There is a minimalism to the squad these days.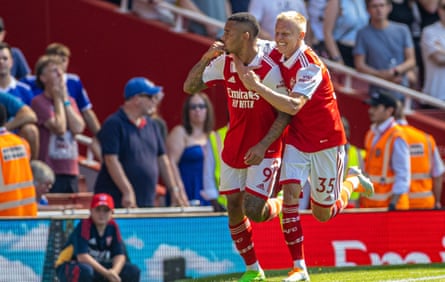 Here is a list of key players who have left Manchester City since the summer of 2020: David Silva, Sergio Agüero, Leroy Sané, Fernandinho, Gabriel Jesus, Oleksandr Zinchenko, Nicolás Otamendi. These are their replacements: Kalvin Phillips, Manuel Akanji, Haaland, Jack Grealish, Nathan Aké and Rúben Dias. The greater balance of mature champion quality is heading out, not in. The squad was always relatively small. It seems thinner now, a conscious act of paring back in search of something that feels true.
It would be easy to suggest here that this is a case of Guardiola picking a fight with his own shadow, finding in culture-war talk a way to put himself at the centre of the story. There was certainly something gripping about Pep watching his sharper, sleeker team in action in early season, the theatrical interplay with the crowd during some of those early Haaland-driven wins, the sense of the world's greatest petrolhead finding himself suddenly behind the wheel of a self-driving car.
Pep loves a puzzle, loves to unpick, loves to find solutions. What if this journey is suddenly only A to B in the straightest line? Hence the urge to see wider problems. Could this be Pep overthinking on an epic scale? A Champions League semi-final freak-out extended to cover an entire title race?
The answer is, of course: no. The overthinking stuff, the micro-complications have always only been another side of the success. Vast budgets aside, this is why Guardiola wins. Because he never stops, because he is prepared to be intellectually reckless with his systems and plans.
Want to know how good he is? Compare him to his peers, to Conte who wants to make the same movie every time and finds himself gasping for air without the precise component parts. Or Klopp who has, with some tweaks, basically been delivering the same fist-pumping stadium anthems for the past five years.
Guardiola's base note always stays the same: defence and attack based on possession; structure and pressing; maniacal fear of the counterattack. But the emphasis has changed every year. This is the sympathetic view of what Pep is doing now, learning from the metal fatigue at Liverpool. Albeit with the sense of a greater degree of choice here, that City can live like common people when it fits the plan, can cut their squad and promote the youth team, but a call to the recruitment committee could still stop it all.
Cancelo's departure has a kind of tactical logic. There has been a shift with Haaland in the team. If one part of your XI is all attack, other parts will have to become a little more defence. Do City still need to create space by overloading riskily in midfield, if the game is being refined to a simpler cutting edge? Cancelo is a classic Pep full-back for a classic Pep team. But this is not that. Haaland made him more dispensable.
This raises its own questions about Sunday at the Tottenham Hotspur Stadium. Spurs have been good against City in recent years. The angles of the classic Kane-era attack, Harry in the pocket, runners ahead, the diagonal attacking pass, has been well suited to City's tendency to vacate the full-back areas.
These games have brought the best of Kane in recent years. Another performance like his masterclass at the Etihad a year ago could be a major step in a title win for north London, just not alas, one that involves Kane holding the trophy. But Sunday could be a little different.
City are more reserved on the flanks, and less prone perhaps to that familiar Kane angle. Either way they will start as strong favourites to win for the first time at the re-geared amphitheatre. Tottenham have lost six of their past 11 in the league and five out of five this season against the current top four.
There is an argument that Kane would have fitted the pre-existing City system better as it would have required less tinkering than for Haaland's sharper, thinner blade. Sunday is another chance to demonstrate that restlessness is also Guardiola's strength.