The comedian Robert Newman once discussed why England's football team wear white. Having invented football, he said, the English got to pick colours first. So they chose white, freighted with meaning and power, pure and existential.
Newman didn't cite the greatest novel of all, Moby-Dick, but I will. Herman Melville wrote a whole chapter about white, the colour of his whale. He wrote of the "certain nameless terror" instilled by visions in white, whether sharks, bears, Death on his pale horse or even Iron Mike Teague. I might have added the last one.
But Newman did describe the "powerful semiotic voodoo" of donning a pure white shirt for battle, whether the wearer be a 12th-century crusader, Bobby Moore or even Carlton Palmer. And he did so in a noble cause: protest of England's decision to play in sky blue. If you dress like Coventry City, Newman said, you'll play like Coventry City. The fate of Graham Taylor showed that Newman was right.
I now invoke Newman, and indeed Melville and all that is holy, in protest of the England rugby union team's decision to run out against Scotland at Twickenham on Saturday dressed as Stevenage Borough reserves, circa 1994.
English rugby chose colours first too. It chose a white shirt with a red rose on the breast, white shorts and dark blue socks with white tops. For more than a century, that was what England rugby teams wore.
Then came professionalism and the need to sell replicas and a rapid descent began. There were blue armbands and red sleeve stripes, there were blue collars and red splats under the arms. There were white socks and grey socks and for the 2007 World Cup a red swoosh defaced the lot.
But nothing came close to the present nadir. The current England kit features a blood-spatter of red crosses on the body of the shirt, red armbands round the sleeves, red stripes on the shorts and socks that are glaringly, horribly a wrong and lighter blue. With red bits on the tops.
Does this really matter? No, not at all. And yes, entirely.
I understand the commercial imperative of change but I also understand, or hope I do given I've written a book about it, the history and mythos of rugby. The imperative of some things not changing. Ever.
Rugby colours are about identity, belonging, pride, teamwork, effort, sacrifice and other buzzwords Steve Borthwick, the new England coach, is doubtlessly flinging about. Rugby colours are about simple meaning.
New Zealanders know this, which is why – beyond some appalling adspeak a few years ago about "the blackest jersey ever" – the NZRU and Adidas have largely left the All Blacks kit alone. Black with a silver fern at the chest. That's it. Even the sponsor's logo is at least somewhat held in check.
The RFU should look and learn. England teams – men, women, everyone – should play in white with a red rose and the sponsor kept smaller than the gaping shark's gob it currently forms. Socks should be dark blue with white tops. The colours Will Carling wore, and Mick Skinner and Wade Dooley. The colours the astonishing Maro Itoje should wear, unless the opponents are Argentina or Fiji. Simple. Easy. True.
Other teams have great colours too. Or had. When Phil Bennett died last year, I took refuge in YouTube, where he lives forever in glorious red. When I was growing up, Bennett, Gareth Edwards and co were retired and Wales were mostly rubbish. But I loved seeing the Welsh run out on the impossibly green Cardiff turf in red shirts with white collars, white shorts and red socks with white tops. Those Wales shirts blazed with the passion of a sport and its people. They had "powerful semiotic voodoo", indeed. They were the colour of Eddie Butler's voice.
The same went for the Scots, for Doddie Weir, John Jeffrey and all the other giants in dark blue, and for Ireland in their eternal green, a rather friendly hue which berserkers like Peter Clohessy and Philip Matthews nonetheless filled with hectic menace. France had Adidas stripes, enticing indicators of élan and danger, as richly different as the tan balls their backs passed in Paris and the Moriarty moustache on Laurent Rodriguez, the Dax Bull at No 8.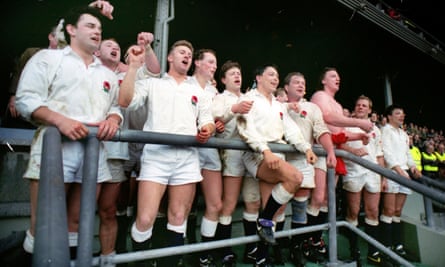 Concession one: I was a kid when those colours cast their simple spell. Which is how sport works. It gets you young. Kids today, I suspect, would not particularly care that England no longer wear all white, any more than they would care that it is nearly 30 years since even one of England's second-row forwards was a towering beat policeman.
Concession two: I am old and grumpy. But cranky members of Generation X have as much right to whine about rugby as TikTok-ing Gen Z-ers and whatever comes after.
As another Six Nations nears, England are not alone in committing colour crimes. Wales's shirt is about as good as can be expected but they're wearing dark green socks. Wrong. Scotland, white socks and light blue collars. Wronger still. France have dispensed with white shorts and red socks, to play in all blue. Wrongest of the lot.
Except, maybe not. France's shirt has a certain Gallic resonance, a deep timeless blue. Also, the French shirt does not seem to have been designed by a five-year-old searching Google for the cross of St George. Unlike the RFU, the French union has not thrown history and taste on the fire.
I don't quite have the brass neck – the Michele Lamaro neck, even, twice as wide as my head – to say what England wear affects how I support them. I'll be urging them on. But with every crappy new shirt, every dilution of Robert Newman's powerful semiotic voodoo, every cheap vandalisation of the great white wall of history, something inside of me dies.