Twickenham felt a little different on Saturday afternoon. It was the same walk from the station, by the same stalls on the Whitton Road, past the same faces, under the same sort of sombre February weather, to watch an England team made up, in the large part, of the same names that have been on and off the team-sheets here for the last few years. It was the air around the place that had changed. People were unsure exactly what to expect from the afternoon ahead, except that, whatever else, it would at least be something unlike what they've seen from England here recently.
That promise didn't last all that long. Twenty minutes after kick off, things were feeling more than a little familiar again. And when it was all over, everyone was left facing the same old conclusion, too. England have an awful lot of work to do if they're ever going to be anything like as good as people around here seem to believe they ought to be. They've now blown their shot at a grand slam in the opening round of the last four championships. They've also lost to the Scots three times in a row, something that hasn't happened since the early 1970s.
Steve Borthwick had warned beforehand that England would make mistakes. But even he can't have expected there would be this many. England's handling was sloppy, their lineout misfired, twice, and, even more problematic, they missed an awful lot of tackles. There were, count them on your fingers, one, two, three, four, five in the space of just the few seconds it took Duhan van der Merwe to finish Scotland's second try. It was one of the great ripping-roaring scores, a jinking sprint from inside in his own half that left English tacklers throwing themselves around like they were trying to grab a greased piglet.
And for the English fans, it was as excruciating as watching a man chase after his own hat. They missed 20 tackles altogether, more than one out of every ten they attempted. There were two more of them in the run-up to Ben White's third try, when he slid by Ben Curry then stepped Freddie Steward, and another couple before Van der Merwe scored their fourth to win it in the 74th minute, when he bulldozed straight over Marcus Smith. Borthwick explained afterwards that they were still bedding in to their new defensive system. On this evidence, they're going to be spending an awful lot of time with their tackle bags between now and next weekend.
Borthwick preferred to focus on what his team had done with the ball in hand. He said he felt they had made real progress in attack, and it was true that in amongst it all the helter-skelter chaos of the game, there were plenty of little glimpses of what England are capable of doing.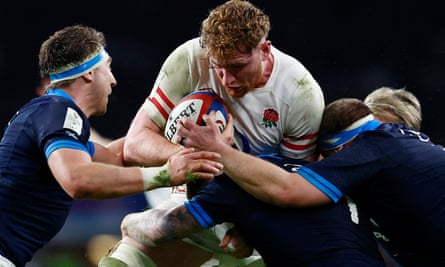 It was Max Malins who kicked them into gear after a torpid first quarter. Malins is one of a handful of players in this side who had been burned by Jones. He was dropped from the squad after England's defeat to Ireland in last year's championship, and wasn't seen again till Borthwick picked him. Borthwick suggested in the run-up to the game that Malins, and rest of Jones' rejects, had something to prove. Jones, such an unforgiving coach, pissed off so many people during his seven-year tenure that Borthwick's could probably keep picking new men with grudges against him in every round of the championship.
Malins made his point. He cut infield to meet a high kick, which he hacked downfield. Malins chased after it like a man sprinting downhill, his feet landing before his mind had time to tell them where to go, and, after hacking it on again, finally caught up with it in Scotland's 22. It launched a wave of 14 phases. Smith eventually worked out how to finish it when he lofted a high chip into the far corner. Malins looped around the back to catch it.
It was a fine try. Then Malins was on the end of England's second too. When Farrell kicked a penalty, England went ahead for the first time, and when Ellis Genge crashed over the try-line in the minutes after half-time, they had an eight-point lead with thirty minutes left to play. As Borthwick said afterwards, they should probably have won it from there. But this Scotland team isn't easily beaten, and they snatched the match back again with that try by White, a penalty by Finn Russell, and then, that finishing blow by Van der Merwe.
At least no one was booing England at the end, unlike last time out, when they lost to the Springboks. But the memory of tens of thousands of travelling fans chanting "Scot-land! Scot-land! Scot-land!" probably won't have been so very much sweeter on the players' ears.
One of the other changes England had made was that they played a little speech by Borthwick over the public address before the kick-off. He spoke sincerely, as he always does, he promised the fans "pride" and "passion". And England delivered it, too, but admirable as all that is, those qualities only go so far, and that's not nearly far enough when you make as many mistakes as England did, not against a team playing as well as the Scots.