Afterthoughts don't get much less thought than this. Australia's Test series in India has come to an end after six weeks of scrutiny and emotion, probably leaving the visitors feeling a little satisfaction at some of the gains and a lot more frustration at the shortfalls that cost them a chance to win it. Now players have to switch focus immediately to one-day cricket. Steve Smith, Alex Carey, Cameron Green, Marnus Labuschagne, Travis Head and Mitchell Starc are the Test players staying on, with David Warner and Ashton Agar returning from a brief spell at home after leaving the Test tour partway through.
The company line is that this will be useful preparation for the 50-over World Cup in India later this year. That might mean something if Australia did not already have a three-match date in India in September for exactly that purpose. The later series has long been in the calendar, the current one was shoehorned in a couple months ago when it became clear that a few unexploited days could be manufactured between the Tests and the new season of the Indian Premier League. This was also around the time that Cricket Australia cited ethical concerns while cancelling a planned series against Afghanistan due in a similar late-March window.
Really it's about a few extra dollars in the bank for the Indian board ahead of their US$6bn domestic tournament, and the willingness of Australia's board to play ball literally and figuratively whenever the BCCI asks. See also the visiting Australian prime minister smiling and waving like a queasy ventriloquist dummy during the ceremony staged to direct a stadium's worth of praise at India's prime minister in Ahmedabad during the final Test match of the recent series.
It's no surprise then that the teams both feel a bit slapdash. Both regular captains will be absent to begin with, Pat Cummins staying home for the full series to grieve with his family, and Rohit Sharma missing the first match with his own family matters. Likely starters but for injury include India's middle-order tempo setter Shreyas Iyer and Australian quicks Josh Hazlewood and Jhye Richardson.
That will let India pick two openers who each have made recent double-centuries in the format, Shubman Gill and Ishan Kishan. Virat Kohli will bat three after recently getting his hundred-scoring mojo back in the 50-over game, and last week ending his wait for a Test ton. Hardik Pandya will captain in Rohit's absence, someone who routinely performs against Australia. KL Rahul and Suryakumar Yadav were both dropped from the Test side in recent weeks but might be freed up in the shorter form.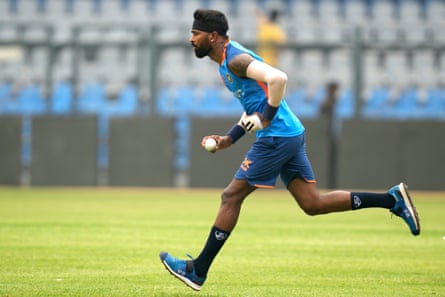 India's wealth of all-rounders gives so many options: Hardik and Shardul Thakur with pace bowling and long hitting, Ravindra Jadeja and Axar Patel with left-arm orthodox spin, Washington Sundar with the right-arm equivalent. A tweak of those selections could allow Yuzvendra Chahal or Kuldeep Yadav into the mix, the right-arm and left-arm wrist spinners so often left out for their lack of batting while any other side in the world would dream of picking them. Mohammad Siraj and Mohammad Shami will lead the pace department as they did in the Tests.
For Australia, questions of balance abound too. Warner's fitness is not yet confirmed after his arm fracture during the second Test, but notionally he will open with Head. First drop could be Mitchell Marsh if Australia want his hitting power, could be Labuschagne if they want batting control, or could be Smith if they want a different configuration below. That leaves one spot for an all-rounder in Green or Marcus Stoinis, assuming Australia want Carey batting at six and Glenn Maxwell resuming his recently successful role as a floating attacker based at seven.
Adam Zampa's leg-spin will play a big role. Agar will probably be trusted to try to recover his mojo with the white ball having lost it with the red. Maxwell can chip in with increasingly effective finger spin, though his first match back from a recent broken leg might not make it smooth. Starc will get his chances as the prime new-ball user of the past decade. Nathan Ellis or Sean Abbott will fill the last pace spot, needing to do a huge amount to have a chance of keeping it later in the year.
Whatever the results or the performances here, none of them will provide a lot of World Cup answers. They might just create more questions. There is still so much to change between now and October's tournament in terms of fitness and availability alone. Luckily there is that September series between these same teams scheduled six months after the current one. It should help both teams prepare, once all of this other preparation is done.