It is seven years since Paul Pogba joined Manchester United from Juventus for a then world-record fee of £89m. He was 23 and had already won four Serie A titles. He had been named young player of the tournament at the previous World Cup. He was a star on the rise, the sort of player who might conceivably drag United out of their post-Alex Ferguson slump.
Pogba had apparently only one fault: he seemed a player out of time, a box-to-box midfielder in an age that had outgrown them. Midfields had split into two bands, and he didn't quite have the tight technical ability to play in the more advanced line, receiving the ball often with his back to goal, but wasn't quite disciplined enough to operate consistently as a holder (which, anyway, felt a waste of his profound creative gifts). What he needed was to operate on the left of the midfield three as he had at Juve, but that was not how United played. That quibble, though, was only the start of it.
Since 2016, that moment of peak possibility, the Pogba story has been of disappointment. It began, perhaps, with his first interview, in which he said his dream was to win the Ballon d'Or. That seemed a worryingly modern attitude, speaking not of team goals, of winning the Premier League or the Champions League, but of individual glory. Performances were inconsistent. The old grey football men began to obsess about his hair, although the question of whether he was worth it faded the following summer when Paris Saint-Germain more than doubled the transfer record to sign Neymar.
There were highs – a goal in the final as he won the World Cup with France, a Europa League triumph with United, four assists in a game against Leeds – but there were far more lows: an awkward relationship with José Mourinho, injuries, threats to leave.
When he scored for France to put them 3-1 up against Switzerland with 15 minutes of their Euro 2020 last-16 tie remaining, his extended celebration suggested he thought the game was done. That Switzerland then scored twice before winning on penalties was not Pogba's fault as such, but his celebration embodied a general complacency that allowed the game to slip away from France.
Yet performances on the pitch are only part of the Pogba story. Last April he suffered a calf injury and was forced out of United's 4-0 defeat at Liverpool after 10 minutes. It turned out to be his last appearance in a United shirt. Later in the summer came reports that a month before that game, a year ago this Sunday, Pogba had been kidnapped by masked men bearing M16 assault rifles who had taken him to a flat in Chanteloup-en-Brie, 15 miles east of Paris, and demanded €13m (£11.5m) in protection money – €1m for each year of his professional career. Pogba seemingly tried to pay, only to be blocked by the bank, although he was able to raise €100,000. Four days earlier, Pogba's wife, Zulay, and their two young children had been threatened during a burglary at his house in Manchester.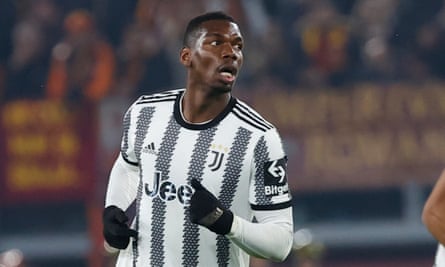 Once before, United had renewed Pogba's contract to protect his value but that summer there was no new offer. When his deal at Old Trafford expired, he rejoined Juve. Perhaps this was the new start he needed. Others, after all, had been dragged down by the United malaise. Perhaps going back to Turin, where he had played his best club football, would reignite his career.
More details about the trauma of March emerged. Investigations into the kidnap led to the arrest of Pogba's elder brother Mathias, once of Wrexham and Crewe, and four childhood friends. All five are currently on remand and facing up to 20 years in jail. They claim they had been threatened by a group linked to organised crime.
As Pogba was settling back into life in Turin, according to reports in Le Monde, his brother called him, said gangsters were demanding the payment and then threatened to damage his image if he didn't deliver the money. A couple of weeks later, Mathias released a video claiming he was about to make "great revelations" about his brother, including his alleged use of a marabout, a west African holy man called Ibrahim who charged €100 an hour, to place a curse on Kylian Mbappé.
Pogba later acknowledged he had consulted a marabout, but only for help with his ongoing injuries. In September, amid a collapse in the value of the Cryptodragons he had promoted – NFTs in the form of "eggs" that "hatched" into "dragons" in one of four "classes" which could be used either to "fight" or to "breed" further dragons – Pogba sustained a knee injury that required surgery and kept him out of France's World Cup squad.
Since when he has been dropped by Juve for arriving late to a team dinner and suffered a further injury while practising free-kicks. He apparently told fans "my head's not in it" while the coach, Massimiliano Allegri, said Pogba had "collapsed a bit emotionally", which in the circumstances is entirely understandable.
"He has to put his soul in peace," said Allegri. His tone was sympathetic, but how do you find peace when you've been through what Pogba has been through? Juve and their fans may think they are due rather more than the 35 minutes Pogba has played so far this season for £8.8m a year, but how could anybody focus when they have been threatened at gunpoint, when those closest to them are accused of being part of the plot?
What began as a small tactical issue, a tiny crack in the popular perception, has spread and widened until the whole edifice has collapsed. This isn't about attitude or form or application; it's certainly not about hairstyles. It isn't about wasted potential or injury any more; it's a human tragedy.
Pogba is far from the only footballer to have been targeted by criminals. It's not clear what football can do to protect its wealthy stars but it has a duty, at least, of sympathy. Even if Pogba never plays to anything like his maximum again, he deserves football's understanding and support.